TLTools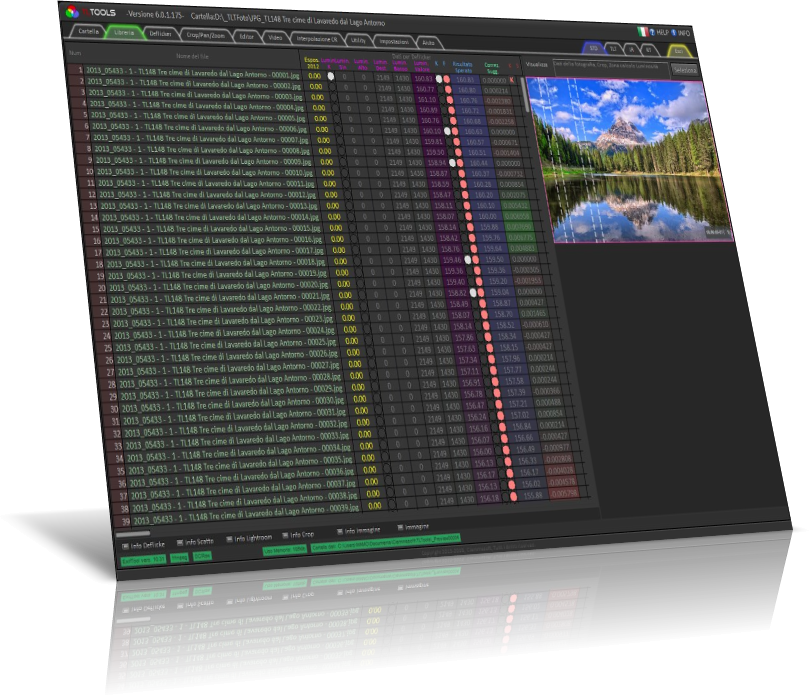 What TLTools?
TLTools is a program that collects many useful tools for Timelapser.
The program allows to optimize the parameters of the picture, in such a way as to obtain a timelapse homogeneous as possible.
The program can 'produce video independently or interface through metadata with other programs (mainly with products like Adobe Lightroom, Camera Raw, etc …)
Some Program features:
Formats Supported:
-Support Native images in RAW (NEF, CRW, CR2, ERW, ERF, X3F, RAF, 3FR, DCR, MRW, ORF, PEF, ARW). The program is not limited to extract the images contained preview (JPG), but has the ability to extract data directly with RAW and perform a demosaicing algorithms qualitatively more efficient. All operations are carried out by working 24-bit real without any data compression (typical images of type JPG).
-Support JPG, DNG, TIFF
Deflicker
With this program you can fix the Flickering. What is Flickering? The Flickering is perceived unpleasant flickering in the movie, which is due to variations in Brightness between one frame and the next. To eliminate this unpleasant problem, the program suggests changes to the exposure values such that in the final movie Brightness changes are more gradual and smooth. To combat this problem, the program offers many opportunities for intervention:
-Action Of deflicker with use of specific profiles (possibility to create own profiles)
-Action Of deflicker Automatically Using Keyframes
-Action Of deflicker Automatic if sequence with the presence of Bulp-Ramping
-Action Of deflicker (only with RAW files) fully automatic. No preventive action is necessary.
Interpolation
-Ability To change (via interpolation) of all the main parameters used by external programs (like lightroom). you can for example vary gradually the white balance, the saturation of the various colors etc …
Simulation camera movements
The program allows you to create automatically and fast movements simulated camera. Among the possible moves are the pan, tilt, zoom, etc.
Editing images via Editor Inside
The program has a very powerful internal editor that allows you to act on many aspects of the pictures (white balance, contrast, highlights, shadows, saturation, hue, luminance, etc …)
Creation Video
Creating final video putting together photos and applying module settings deflicker, crop / pan / zoom, editor.
Possibility of applying numerous image processing filters to photos created, with the possibility (for most of them) to change the intensity of such processing. Among the filters even let you create directly from the program Startrail (with some variations) and the ability to automatically remove people who can ruin the scene (typical are the birds or insects).
Ability to mount multiple video sequences and create introductions.
Ability to add audio to clips created.
Imports images
Import images directly from a memory card, a hard drive etc …
Extracting frames
Extract all frames of a video and then be reprocessed and assembled.
Requirements:
Windows XP o successivi
MAC
Adobe Lightroom 3.5 or later
Exiftool (installed automatically)
FFMpeg (installed automatically)
DCRaw (installed automatically)
Video resolution at least 1280 X 1024